Blind man has to walk three kilometres to fetch water
The daily struggle of Ernest Mdunge and his disabled sister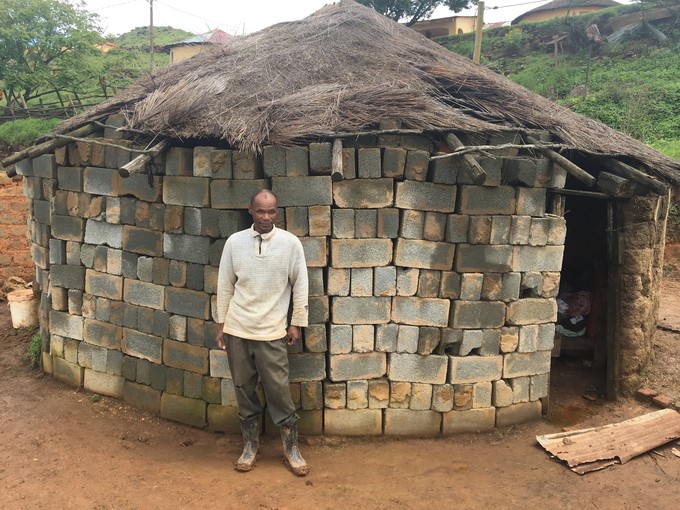 16 November 2016
A blind man from Elandskop in Pietermaritzburg has to walk three kilometres to fetch water for himself and his mentally disabled sister.
Ernest Mdunge, 49, and his sister Bongekile Hlengwa, 46, live in a dilapidated hut built with bricks left over from a demolished house. The roof is made of grass, and rain and wind enter between the stacked bricks.
The family has no tap in the yard and Mdunge has to walk 3km to the "Jojo" water tank in the area.
"I use my feet to feel and guess if I'm still on the right path. Sometimes I hit myself on things and when that happens, I miss the path. I have to take steps back and try to find a spot that is familiar to my feet for me to find my way back. My trip to the water tank takes me more than an hour. I carry two 20 litre containers so that they last me for days."
"Sometimes a neighbour helps me by giving me water from his house but it doesn't happen always," said Mdunge.
There is a pit toilet on the property.
Hlengwa's condition is still being assessed at the local clinic to see if she qualifies for a grant. Meanwhile the pair survive on Mdunge's disability grant and on vegetables he grows with seeds donated by neighbours.
Speaking from their home in Khokhwane location, Mdunge said his worst fear was that the house could collapse at anytime. The roof has holes and the floor is wet as water gets in during the rain. There is one bed with blankets and a pile of clothes belonging to Mdunge's sister who was not at home at the time.
The house was built as part of a project by the Vulindlela Development Association (VDA). The VDA received government money to build houses for residents of Vulindlela in Pietermaritzburg, but many of the houses were demolished in 2014 because of poor quality.
Like other families, Mdunge and his sister were left to fix the demolished house themselves. They used the bricks to build their hut.
Mdunge said VDA was "nowhere to be seen".
"They came once and they promised that they would come back but they never did."
"My worst fear is that the house could fall at anytime. When it rains, the water and wind are uncontrollable. I'm scared for my sister."
An area manager from Msunduzi municipality, Caleb Magubane, said he was aware of the family's predicament but could not help.
"As the municipality we cannot intervene. The VDA people have to intervene and help the family out. Our role as Msunduzi is to identify community problems and refer to relevant people. This one it is out of our hands because it's not our project," said Magubane.
VDA's Senzo Mfayela said his team would investigate and attend to the matter.