Better roads allow fire trucks faster access to Imizamo Yethu fire
"It could have been a lot worse," says shop owner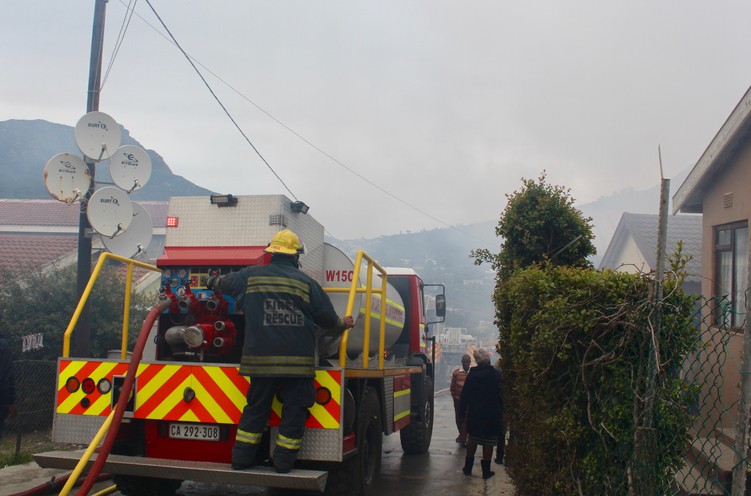 22 August 2018
Just hours after several new roads were opened in Imizamo Yethu in Cape Town, permitting better access to emergency vehicles, a fire broke out. Several homes were destroyed but no-one was injured.
A stove caught alight early in the afternoon of Wednesday in a shack in a backyard.
Hours before, the City of Cape Town's Transport and Urban Development Authority had officially opened 14 reconstructed roads in the area, allowing direct access to Chris Hani Avenue where the fire broke out.
Imizamo Yethu has been the site of several destructive fires in recent years.
Spaza shop owner Musime-Mabondo Fazili saw the flames while running errands and rushed back to his shop, worried that the strong winds would spread the fire. He told Groundup he watched from the upstairs of his container store as people rescued their possessions. Almost all the residents of the block removed furniture from their homes, fearing the worst.
Fazili estimates the firemen took 15 minutes to arrive. The improved widened roads allowed the fire trucks speedy access, he says. "It could have been a lot worse, if the trucks hadn't been able to fit in the street."
Furniture, mattresses, clothing and children's toys littered the smoky streets. A woman said to be resident in a brick house was crying and screaming in the street as she was consoled by four other women.
Lovers Magwala of the Hout Bay Youth Development Forum told GroundUp, "The lady forgot to turn the stove off". The woman and her daughter lived in a zinc shack in a backyard. "It's sad. The City needs to make people aware of fire safety. Our community is affected by fire all the time." He appealed to the private sector to help with education initiatives.
Construction on the roads began in 2016. The project employed 50 people from the community and cost R38 million, including streetlights and new stormwater infrastructure.
Community liaison officer Nqenqa Nonwakazi said that the project had been widely discussed. City officials had knocked on the doors of all affected residents to discuss the road plan. No houses or shacks were moved, only walls and fences.