Backlash from staff and alumni against UCT executive
University receives PAIA request, and two petitions calling for it to open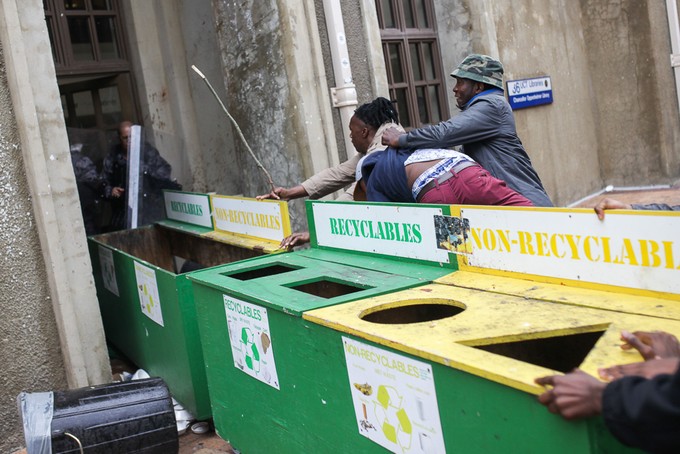 19 October 2016
Students, staff and alumni concerned by the continued shut down of the University of Cape Town (UCT) are putting the institution's executive under pressure to open.
Nearly all face-to-face teaching at the university has stopped. This afternoon, the libraries were closed and the shuttle service suspended following violent incidents on campus.
Student and staff petition
A petition calling for the university to open, signed by over 1,300 members of the university including over 500 staff, was sent to Vice-Chancellor Max Price.
Associate Professor Shamil Jeppe, one of the signatories, told GroundUp: "The university is a place of learning, teaching and research. Protests can [take place]. But these activities must continue else we throw the whole institution and our intellectual project into serious jeopardy."
Another signatory, Professor Imraan Coovadia, told GroundUp: "We have a video [from today] of a man being beaten and his life being endangered. They [members of UCT's executive] are letting ordinary men and women take the brunt of the assault. Students and professors are being threatened. They cannot manage the situation. There is no doubt that this executive cannot pursue the policies necessary to restore order at the university."
Professor Michelle Kuttel informed Price of the petition in an email several days ago, and again today. She wrote to Price today: "I have yet to receive any sort of response to our petition … ".
She further wrote:
"This video of an unprovoked brutal attack on a security guard this afternoon clearly shows prominent 'protesters' again involved in violence. Why are they allowed to do this serially? There should be more than enough evidence for charges against them. Have you thought about the possible consequences if other students or staff are caught in the crossfire? Not to mention the potential for abuse (especially of women) in the current lawless environment in the residences."
Kuttel said: "Is it your intention to drive a large swathe of staff to quit UCT? Because that is what will happen. We are totally demoralised and appalled at the current situation. Many of us are pursuing other employment options."
In a strongly worded email to Price, Samuel Chetty of UCT's Computer Science Department wrote: "I have to add my voice to the gross lack of leadership that I have witnessed thus far. I have not witnessed the anarchy and mayhem that is currently playing out since the 1980s. I have to attribute this to your style of leadership that has set this institution back into the age of the bygone years."
Alumni petition
Meanwhile UCT alumnus Judith February started a petition for alumni yesterday. It has over 500 signatories. It states:
"A shut down is antithetical to the very idea of a university and it is fundamentally undemocratic for a small group to hold an entire university to hostage. We note the UCT statement of 18 October 2016 that sets forth the basis for engagement with protesting students to ensure the academic year is completed. One of the bases is, 'Possible amnesty to the students who have been interdicted, suspended or expelled due to their involvement in the February Shackville protests.' It is very difficult to understand why amnesty should be considered for criminal actions specifically given the disruptions on campus over the past two days. It is also puzzling why this specific group of protesters is treated differently to other students who have been sanctioned. The only reason could be that they are holding the university hostage and bullying it into submission. The protesters have shown that they are willing to place the interests of individual student leaders, charged with criminal activity above the interests of thousands of other students, staff and support staff."
Request for names and affiliations of protesters negotiating with UCT
And in a further development, a staff member in UCT libraries, William Daniels, has sent a Promotion of Access to Information Act request to the university asking it to provide "full names and surnames and faculty affiliations of the individual FeesMustFall/ShackvilleTRC/SRC Candidates representatives with whom the vice-chancellor and the Special Executive Task Team have been negotiating during September and October 2016."
"I think it is important that UCT's 26,000 students know the identities of the individuals purporting to represent them and who have been granted recognition by the university executive," wrote Daniels.
He sent the request after Judith du Toit in the vice-chancellor's office responded to Daniels's original email requesting this information: "Thanks for the suggestion. It is a complicated situation and would likely be seen as victimisation and bullying."
UCT response
Asked to comment on why Price had not responded to the staff and student petition, and why the names of the people the university is negotiating with have not been made available, Patricia Lucas in UCT's Communications and Marketing Department wrote to GroundUp:
"Vice-Chancellor Dr Max Price has received hundreds of letters and emails from a wide range of people with a wide range of concerns. Unfortunately he has not been able to respond to all of them individually. Instead, he has addressed the issues they have raised through various VC Desk communications to the campus community, particularly with regards to the engagements with multiple stakeholders and the call for reopening the campus."
Lucas further wrote: "UCT is investigating every reported instance of attack on security staff. We appeal to anyone with information on these attacks to phone Campus Protection Services on 021 650 2222, or the SA Police Service (SAPS). Public order policing has been provided on campus today by SAPS."
She also said: "The libraries were closed and the shuttle service suspended to facilitate a plenary session that was agreed between protesting students and the UCT executive. Other services on campus, such as the computer labs, should still be open."
Protesters' statements
A statement earlier today on student protest group Shackville TRC 2016's Facebook page said: "Private Security has violently beaten students at upper campus. The situation has been escalated. The University of Cape Town and the state have declared war."
A further statement from the group said: "Police are now on the campus with Private Security. Steve Biko Building remains available as a safe haven from state and institutional violence."