Artist finds inspiration in streets of Mitchells Plain
Anwar Davids designs poster for Open Streets festival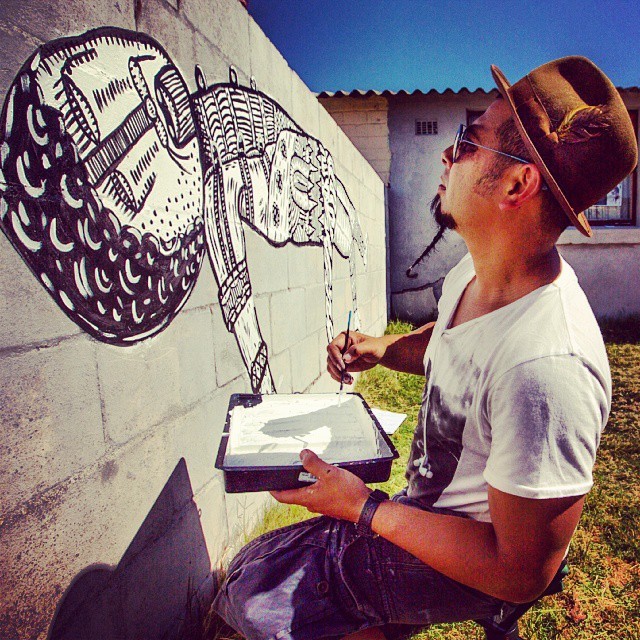 8 March 2016
For Anwar Davids, the streets of Mitchells Plain are spaces for inspiration and imagination, of activity and energy.
"When I travel or walk about in the streets I find myself staring at my surroundings. It's like I am capturing those moments and storing them somewhere in my subconscious. As soon as I get home I take out my sketchbook and the organic process begins."
Davids, 37, was born and raised in Mitchells Plain. He collaborated with designer Matt Fraser to create the poster for Open Streets Mitchells Plain, which will shut down part of Merrydale Avenue to motorised traffic on Sunday 3 April.
Residents will be free to use the space however they wish – whether for dancing, singing, art, sports, or anything in between. Davids hopes to evoke the spirit of the day in his poster, noting that the its message "is about free movement and respect for each other."
"The streets belong to everyone, so come and enjoy the activities and sense of community."
Davids remembers spending time in his childhood in the streets cycling and playing football, basketball, and cricket. More than just a playground, though, the streets were also the source of some of his earliest artistic inspiration. He says: "My favourite thing to do was walk around to different neighbourhoods just to see the graffiti art on the walls."
Studying graphic design at Cape College, Davids was influenced by cubism, surrealism and pop art. Today he works as an independent artist and as a graphic designer for e.tv Creative Services. While he no longer lives in Mitchells Plain, he says he returns often to visit his family.
The streets and the community still stand out to him as "filled with a great energy and vibrancy." He explains: "Mitchells Plain is a place with so many talents and diverse active neighbourhoods. There are all walks of life here."
"Mitchells Plain has its bad elements but so does every other place in South Africa. We seldom hear about the good and positive things happening in Mitchells Plain and yet it is a place filled with many."
Marcela Guerrero Casas, co-founder and managing director of Open Street Cape Town, says: "We were so excited when Anwar came on board to co-create the poster, not only because we love his work but because it's important to have community involvement in any Open Streets Day. Anwar is the latest in a long line of talented people we've met and worked with from Obs to Langa and Bree Street to Bellville, and we hope attendees on 3 April will also find inspiration in the streets of Mitchells Plain."
Open Streets Mitchells Plain will be held on Sunday 3 April from 12h00 till 17h00 on Merrydale Avenue. All are invited to attend. Click here for more information about Open Streets Mitchells Plain, and follow Open Streets on Facebook and Twitter.
Check out Davids' portfolio here, and follow him on Twitter and Instagram @anwardavids7.