ANC members fear one another after Pietermaritzburg murders
"Political killings have become a habit," says party member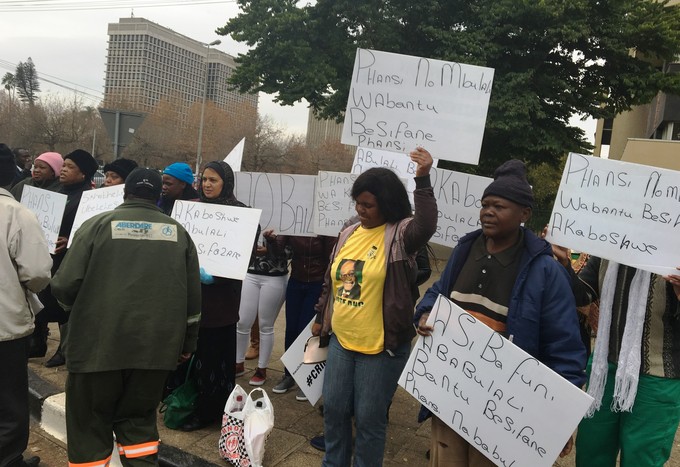 23 June 2016
On Wednesday, the community of ward 15, Pietermaritzburg, packed out the magistrates' court for the second appearance by former ANC branch treasurer Bonginkosi Shabalala for the double murder of two ANC women who were shot last week.
Phetheni Ngubane, 60, and Badedile Ntsapha, 54, were shot in Fedsem on their way back from a meeting. Both were laid to rest on Sunday.
Shabalala was proposed as a candidate for the ANC in ward 15, but he did not make the list. He lives in Emaqeleni and works as a security guard for Enforce Security.
Members of the community waved placards outside court, sang and chanted struggle songs; most were wearing ANC T-shirts, hats and jackets.
A close friend of Ngubane, who asked to remain anonymous as she feared for her safety, said the community opposed bail for the accused.
"As the community we feel that we are not safe anymore. We fear for our safety because we don't know who is next. I was very close to Ngubane and I have been told that they are on to all of those close to her."
She did not say who "they" are.
"All of us are ANC members and it's scary that a person can shoot two women in that manner. We don't know who to trust anymore. Political killings have become a habit and we never thought it would go this far. We fear our own comrades and people we thought loved the organisation [ANC] as we do. We fear each other now," she said.
The leadership of the ANC of Moses Mabhida Region were in the gallery in court. They did not wish to comment on the matter.
ANC members outside the court said they were angered to see Shabalala had supporters.
Zodwa Ntombela, who was protesting, said, "What is so annoying is that his supporters are women. You cannot call those people members of the ANC. We fear to walk at night in our own ward. One will now have to think twice before leaving the house."
Shabalala's bail application was postponed until 29 June.
The case is being investigated by the Hawks.