ANC ahead, but struggling in Gauteng
And other essential news of the day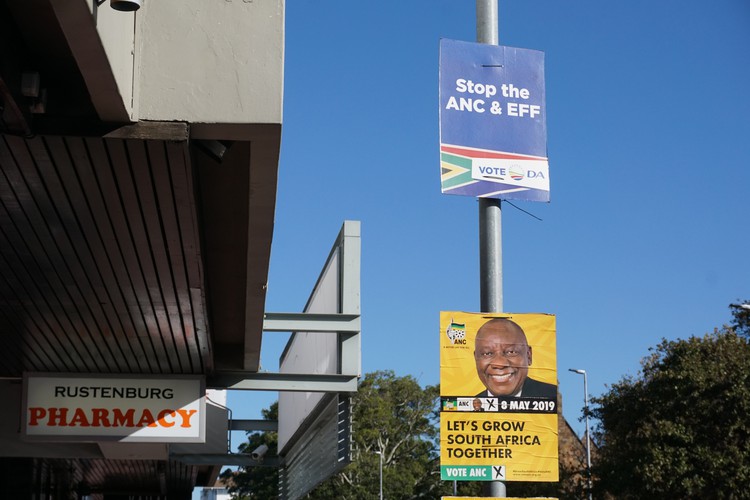 10 May 2019
During May, we're publishing and promoting the.news.letter, a digest of essential daily news produced by veteran journalists Chris Whitfield, Jonathan Ancer and Martine Barker. Enjoy!
ANC ahead, but struggling in Gauteng
The vote counting has crept past the 75% mark – the plan was to have it completed tomorrow, but that might have been a bit ambitious – and trends are becoming pretty evident. The major ones are:
The ANC will win the national election but with a reduced majority. Its numbers were around 57% today, down from 2014's 62%. The result should be enough to give President Cyril Ramaphosa a mandate to act decisively;
Ramaphosa's personal popularity has given the ANC a boost, with the numbers suggesting that voters split their national and provincial choices to support him in Gauteng, the Western Cape, KwaZulu-Natal and Mpumalanga. This should also embolden him to act against his detractors within the party;
The FF+'s adoption of former DA leader's Tony Leon's 'Fight Back' strategy has had exactly the same effect as it did back then: attracting the white right in some numbers. The FF+ is set to grow from less than 1% of the vote to more than 2.5%;
As was predicted when Leon opened the DA's doors to the far right, he was setting the party up for a bruising when it finally got itself a black leader. That said, Mmusi Maimane should be pleased with the indication that the party's losses – they should not be much more than 1% down – indicate black voters have stepped in to replace the exiting conservatives;
The EFF has grown and topped the 10% mark overnight – up from 6% in 2014 – but that is well short of its own predictions … and ambitions;
The ANC's attempt to keep an outright majority in Gauteng is on a knife-edge. It was just below 50% from mid-morning;
The EFF should become the official opposition in a third province – it is set to add Mpumalanga (where the DA has dropped back) to Limpopo and North West;
The IFP is staging a comeback and may edge out the DA to become the official opposition again in KZN;
Against some predictions, the DA is set to retain an outright majority in the Western Cape but will drop from 59% support to around 55%. Auntie Patricia de Lille's GOOD party is hovering around the 3% mark in the province;
The ANC is set to govern in all the provinces bar the Western Cape and, possibly, Gauteng. It is getting a bit of a bloody nose in KZN though, with its majority set to decline from 64.5% to 53%. Its majority has also been eroded in most provinces.
Meanwhile, the Electoral Commission has rejected suggestions that there was widespread double voting in spite of 20 people arrested in KZN for doing so.
Bail for motorist who ran over guard
The motorist who ran over a security guard in a Stellenbosch shopping centre parking lot has appeared in court and says he will plead not guilty to attempted murder. A CCTV camera video of 38-year-old Johan Steyn from Kraaifontein driving over the guard who had been attempting to prevent him driving against a one-way system has gone viral. The guard was treated in hospital and discharged. Steyn was given R2,000 bail at the Stellenbosch Magistrate's Court. News24 reported that he owns a 'general building repairs and maintenance business'.
---
WHAT'S THE BUSINESS?
Losing its lustre
AngloGold Ashanti plans to sell its South African assets, including the world's deepest goldmine, Mponeng. The miner has already sold off several mines to Harmony Gold and Mponeng is the last underground mine in its SA portfolio. It has two other surface operations. BusinessLive notes that SA has become increasingly unattractive as a deep-level mining investment, with electricity prices rising by more than 530% in a decade and set to increase by another 30% over the next three years. The trade union Solidarity has asked management to secure jobs as a condition of sale.
All at sea
About 5000 South African seafarers face losing their jobs in international shipping because the global body that certifies them says that SA training is not up to the minimum qualification standards introduced in 2010. They are not alone, though. Sailors from 86 other countries are in the, er, same boat. Samsa, the SA Maritime Authority, says additional training is in place but that its reports on it have so far been rejected. It is hoping to fast-track a new report.
---
IN THE SPORTS CORNER
Final flourish
Arsenal and Chelsea wrapped up a piece of history last night when they secured their places in the Europa League final. Following on from Liverpool's and Spurs' heroics earlier this week, the two London clubs have ensured all four finalists in Europe's top two club competitions have come from one nation for the first time – Spain had three teams in 2015-16. There have only been two all-English finals in European competitions before: Tottenham beat Wolves in the 1971-72 Uefa Cup and Manchester United beat Chelsea in the 2007-08 Champions League. Last night Pierre-Emerick Aubameyang scored a hat-trick for Arsenal as The Gunners booked their place in the final by beating Valencia 4-2 for a 7-3 win on aggregate. Chelsea and Eintracht Frankfurt drew 1-1 for the second time before Chelsea won a penalty shootout 4-3. Chelsea and Arsenal are just 12km apart in London, but both teams and their fans will have to travel about 4,500km to Baku in Azerbaijan for the final on May 29. Liverpool and Spurs meet in Madrid on June 1.
Bulls hoping to upset the Crusaders
The Bulls will be looking to improve on what the Sharks did last week when they tackle the Crusaders at Loftus this evening. The Bulls moved to the top of the South African Super Rugby conference last week after the Sharks drew with the rampant New Zealand side and the Pretoria squad will be looking to consolidate their lead with a win this week. With a few rested players back the Crusaders could be back at their best. The Sharks have picked up six points on their travels but would like to add another four when they take on a struggling Chiefs in Hamilton. The Lions will be confident of seeing off the Waratahs to start their final push toward the playoffs. The Lions may be bottom of the South African conference but they have a clean run to the playoffs, with four out of six home games and three derbies against South African opposition. A win tomorrow could start a move back to the top of the South African conference. This morning the Hurricanes beat the Blues 22-12.
Liverpool look for another miracle
After their heroics against Barcelona on Tuesday, Liverpool will be looking for more fairytales on Sunday. This time, however, they need more than just a win and need the Wicked Witch to sprinkle some bad magic dust on Manchester City at Brighton. If City win on Sunday they will be crowned champions; a draw and Liverpool need to win against Wolves to secure the title. Two Liverpool miracles in a week? As we discovered this week, nothing is impossible. In the battle for the remaining two Champions League places, Chelsea are 100% confirmed and Spurs are so far ahead of Arsenal on goal difference it would take a miracle for the Gunners to claim the final place. Manchester United are out of contention. Chelsea travel to Leicester, Spurs host Everton, Arsenal are away to Burnley and United welcome Cardiff.
WHAT'S THE BUZZ?
Farewell to Chewbacca
The death last week of Peter Mayhew, the towering actor who played the part of Chewbacca in the StarWars franchise has drawn tributes to him from across the world, including an Instagram post from the International Space Station where astronaut Nick Hague (@AstroHague) posted a photo (above) with Mayhew's photo framed by the ISS window with Earth visible behind. The Telegraph has published an obituary that shines a light on how this remarkable man brought his own stamp to the beloved character.
SAY WHAT?
Beady eye spots missing 'i'
The.news.letter knows all about typos - whenever we make one someone lets us know all about it. And when we do, we take responsibilty. But we have never made a R23-billion typo – well, not yet. A beady-eyed Australian found a typo on the country's new $50 note – 46-million of them were rolled out in October, at a value of 2,3-billion Australian dollars. In microscopic text on the note the word 'responsibility' is missing the third 'i' ('responsibilty'). The text comes from a speech made by Edith Cowan, the first Australian woman to serve as an MP, and reads: 'It is a great responsibility to be the only woman here, and I want to emphasise the necessity which exists for other women being here.' The.news.letter wonders who took responsibility for 'responsibilty'.
---
TWEET OF THE DAY
Friday's top tweet is this witty riposte from Amanda Rinquest to a comment from Khanya Ashley
@Khanya_Ashley (@Khanya_Ashley)
Also you guys are being weird about the EFF. The EFF is doing well for a party in its infancy.

Amanda Rinquest (@AmandaRinquest)
Can't be considered an infant when it's getting cigarette money 🤷🏻‍♀️
---
CRYPTIC CLUE OF THE DAY
Today's clue compiled by Stanhill Claret is, Recipe mania for a song and a film (8,3)

The solution to yesterday's clue, She meets any races wildly (6,7), is CASTER SEMENYA – an anagram of 'meets any races' ('wildly' is the anagram indicator).
---
THE BIG READ
Disciplined and computer-savvy, Stephen Allwine was in theory the perfect criminal for a dark-web crime. Allwine, who went by the name dogdaygod, wanted his wife dead. Wired magazine tells the astonishing tale of the murder of Amy Allwine.
---
WHAT WE SAY
Who blamed the media for their dismal performance?
That would be the Black First Land First's Andile Andile Mngxitama. He had set his sights on 10 seats in Parliament, but the party barely got 10 votes to rub together. 'Land or Death' … well, for BLF's political ambitions, it's death. Definitely death.

What was the biggest surprise of the election?
The plus-size support for the FF+.

What didn't surprise us much?
That Hlaudi Motsoeneng's prediction that he would be South Africa's next president didn't come true. His African Content Movement got less than 3,000 votes, which is just enough votes to make him president of his own sandpit.

What kept us guessing?
Whether Jacob Zuma and Ace Magashule voted for the ATM.

What was the biggest election controversy?
The disappearing thumb stains caused a massive ink stink.

Who got nailed?
Mantwa Matlala-Malema. Juju Malema frothed at the mouth at an IEC official who wanted to cut his wife's false nail off so that her real thumbnail could be marked.

Now that the elections are over what can we be grateful for?
That we won't have to see any more thumb selfies on social media and that we will no longer be interrupted by headmistress Helen Zille, admonishing us to do 'the right thing'.

Who were the election menaces?
The EFF supporters who were filmed dragging an elderly woman in ANC colours off a chair and beating her.

What made us proudly South African?
Despite logistical issues and allegations of double crosses, voting was peaceful (except for the menaces above) and the election was free, fair and credible. Now, it's our job to make sure the politicians do theirs.
We welcome your insights, observations and compliments (especially your compliments) so please send them to thenewsletter.daily@gmail.com.