Thirteen workers from a farm in Philippi have accused their employer of contract breaches, unfair dismissal and abuse. But farm owner Edgar Meyer denies the allegations, and says that the proper dismissal process was followed.
Gladys Skhosana, a 58-year-old former worker on a vegetable farm in Philippi, recalls having to eat her lunch outside during winter rains.
"That was simply because we had joined a union. Those who didn't were allowed to eat indoors," she says.
Skhosana had worked at the E&T Meyer Droë Heuwel farm in Philippi since 2002. On 11 November, she and twelve colleagues were dismissed.
The workers had joined the South African Parastatal and Tertiary Institution Union (SAPTU) in March this year in hopes of making their working conditions better. Instead, they claim, the conditions worsened.
They had joined the union against a backdrop of alleged abuse at work. The farm owner would often swear and throw stuff at them, Gladys says.
"When I started to work at the farm we were paid R75 a week till it went up to R500. We were only allowed to go home when he said so. Sometimes we would leave at eight at night and he wouldn't pay us for the extra hours," she says.
"I stayed even though it was hard because I needed the job and I have no education. It's very hard to get a job, I had to stay to support my family. He once threw a metal staff on my foot. When I told him that I can't come to work because of the injury, he said that's not his problem; I must go tell the union."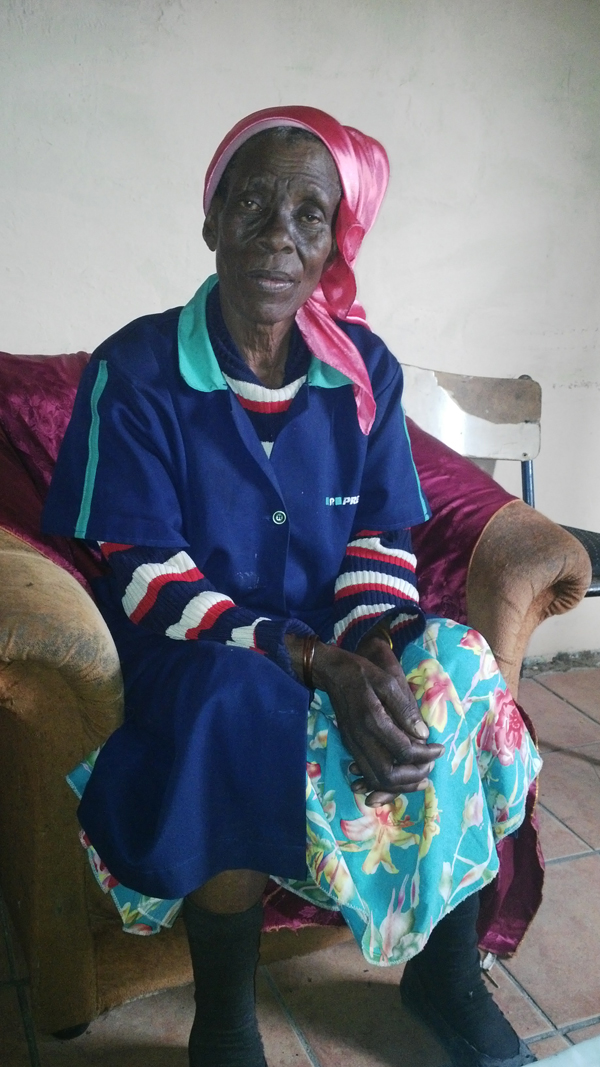 Gladys Skhosana at her home in Phillippi. Photo by Thembela Ntongana.
Another employee Thotyelwa Zweni said that sometimes they were made to work weekends and were not paid for them.
"When we joined the union we signed contracts that stated we would work from eight to six and that we wouldn't work on weekends. The farmer had meetings with the union and he agreed that he would pay over time if he wanted us to work on weekends, but he never did," he said.
"He would refuse to pay us on Fridays. He said if we wanted our money we must work on weekends so he can give us the money on Monday. When Monday came no overtime money would be added. We would ask and he would say he doesn't owe us money and that we should go ask the president or the union for it."
Ongama Tshona, a recruiter from SAPTU says they have had two meetings with the farm owner. "We found out that he was not complying with the terms in the contracts with his workers," he says.
"We set up another meeting with him, but it was unsuccessful because he had already fired the workers. We are trying to set up another meeting before we take the matter to the Commission for Conciliation, Mediation and Arbitration (CCMA)."
Tshona adds that the workers had not received warnings before their dismissals.
Farm owner Edgar Meyer laughed when asked to respond to each of the allegations against him.
"I don't know how many times I have gone to the CCMA because of workers taking me there. They always say that I treat them badly," he says.
"But, they are lying. That's a lot of nonsense. They work slowly and their work is behind and they want me to pay them overtime, they give me trouble and go complain at the union."
Meyer's human resource consultant Johan Van Eeden says that written warnings given to the workers were on file, but he confirms that these had not been signed by the workers.
"He swears at them, yes, but it's not a personal thing," said Van Eeden.
Skhosana, who has asthma and arthritis, says she can longer go back to work.
"All I want is for him to give me a blue card so I can get my Unemployment Insurance Fund (UIF) money, I don't want to go back there because I am too sick," says Skhosana.